Posted 3:12pm Sunday 10th October 2021 by Sean Gourley
Elliot Gray is an ex-Otago student who creates planters in the shape of various genitalia as a side hustle. His business has been a huge success, with a penis-themed post reaching millions on Facebook. Elliot 3D prints the pots. His interest in 3D printing started while he was studying IT at Read more...
Posted 12:19am Saturday 2nd October 2021 by Sean Gourley
Dale Kerrigan are a local noise rock band that has been playing gigs all over NZ this year. Shlee's vocals over a crashing backdrop gives Dale Kerrigan a distinctive sound. They recently released their first album on Spotify. Their sonic tonic consists of Shlee on guitar, her brother Josh on Read more...
Posted 3:41pm Monday 20th September 2021 by Sean Gourley
Joseph Jakicevich is an artist currently based in Wellington who popped down to Ōtepoti at the start of the year. His unique artwork often features eye-catching distorted subjects. Critic checked in with him to see what it was like collaborating with artists from all over Aotearoa. Joseph Read more...
Posted 3:37pm Sunday 5th September 2021 by Annabelle Vaughan
Best known for their funky, genre-spanning sound and playing plenty of pint nights, Dunedin band Black Sale House are leaving a major mark on the Dunedin music scene. The group of five, made up of Masin on vocals, Samuel on keyboards, Finn on guitar, Joshua on drums, and Sol on bass, sat Read more...
Posted 4:06pm Sunday 22nd August 2021 by Annabelle Vaughan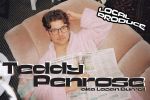 Image credit: Rosa Nevison Otago student Logan Burrell is well accustomed with the Dunedin music scene. After playing in several local bands, he has since branched out on his own solo project, releasing music under the pseudonym Teddy Penrose. Critic sat down with Logan to chat about his creative Read more...
Posted 2:25pm Monday 16th August 2021 by Keegan Wells
Jacob Koopman is one of the newest creatives emerging onto our local art scene. Jacob is currently blessing the eyes of many with his work, which blends realism and surrealism. Jacob is an artistic powerhouse who enjoys painting, usually while lying on the floor of his "poor-lit and mostly Read more...
Posted 2:14am Monday 9th August 2021 by Sean Gourley
Tom Sharp is a musician well-acquainted with the Dunedin scene. For his latest project he has decided to go solo and give Dunedin a taste of his own unique style. He has released two singles and an EP under the name beatvandal. Tom started taking law at Otago after a gap-year in 2018, but Read more...
Posted 5:33pm Sunday 1st August 2021 by Sean Gourley
Emerik Wallace is a very chill guy, who loves cutting hair. He runs @fat_emz_cuts cutting hair on weekends for customers and a few mates. Alongside this, he studies physio right here at Otago. Emerik started out cutting his own hair, he says. "I used to try to do short sides and fades Read more...
Posted 1:33pm Tuesday 13th July 2021 by Annabelle Vaughan
During last year's Covid-19 lockdown, housebound people up and down the country got creative with their time. One of these people was Zhaqueal, a fourth-year dental technology student and owner of up and coming hair accessory business, Glacé. Zhaqueal's hair accessories Read more...
Posted 12:45am Monday 24th May 2021 by Annabelle Vaughan
Named after the famous surrealist photographer and the Spongebob villain, Man Ray is one of Dunedin's newest live bands. Man Ray sat down with Critic to talk about what it's like gigging around Dunedin, the process of creating music, and their goal to create safe spaces for everyone Read more...
Showing results 1 - 10 of 18

Previous Results
Next Results

TAGGED ITEMS
Showing items with the tag:
local produce