Posted 12:14am Saturday 2nd October 2021 by Annabelle Vaughan
Ōtepoti band L Hotel are known for many things. Pint Night gigs, being objectively cool blokes, playing covers, and releasing all round good tunes. The trio, which consists of former reality TV star and bassist Dave Borrie (Taurus sun), drummer Fred Richardson (Leo sun), and guitarist Jono Read more...
Posted 12:19am Saturday 2nd October 2021 by Sean Gourley
Dale Kerrigan are a local noise rock band that has been playing gigs all over NZ this year. Shlee's vocals over a crashing backdrop gives Dale Kerrigan a distinctive sound. They recently released their first album on Spotify. Their sonic tonic consists of Shlee on guitar, her brother Josh on Read more...
Posted 4:04pm Sunday 12th September 2021 by Sean Gourley
Adelaide Cara is an Ōtepoti musician who recently recorded their debut album 'How Does This Sound?' The album is nostalgic and dreamy, perfect to listen to while you drive around at night, with haunting vocals. Thankfully they released it on cassette tape, so even my very old car Read more...
Posted 4:06pm Sunday 22nd August 2021 by Annabelle Vaughan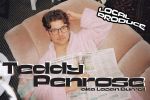 Image credit: Rosa Nevison Otago student Logan Burrell is well accustomed with the Dunedin music scene. After playing in several local bands, he has since branched out on his own solo project, releasing music under the pseudonym Teddy Penrose. Critic sat down with Logan to chat about his creative Read more...
Posted 2:15pm Monday 16th August 2021 by Elliot Weir
Pōneke-based Daniel Vernon is a man of many talents. He's an artist, a podcaster, and is in a band. He writes and plays music in Dartz, makes political satire comics as yeehawtheboys, and talks about sex, love, and relationships on the Just The Tips podcast. Daniel took some time out of Read more...
Posted 2:06am Monday 9th August 2021 by Annabelle Vaughan
Four-piece indie rock band Mako Road have been making festival headlines and blasting through radio airwaves across New Zealand for a couple of years now. Their debut album, 'Stranger Days', has just been released and the group is set to tour around New Zealand this month. Critic Te Read more...
Posted 3:16pm Sunday 1st August 2021 by Fox Meyer
Wax Mustang's Re-O performance featured a spinning globe backdrop, which appeared to be missing a certain eastern Australian state. A Critic reporter attended the gig and spotted the apparent error. The globe was see-thru and rotating, so that you could see the continents facing you as well Read more...
Posted 7:59pm Sunday 30th May 2021 by Sean Gourley
Image credit: Rosa Nevison Hot Sauce Club are a recent band on the Dunedin scene. They've taken Dunedin by storm with a continuous series of gigs since their venue debut at Starters. Their Spotify is still in the pipes at the moment but check out their Insta @hotsauceclub. The band consists Read more...
Posted 5:24pm Sunday 28th March 2021 by Sean Gourley
The Slinks are an up and coming band on the Dunedin scene. Starting out in 2019, they've worked their way up from playing at the humble Crown Hotel to playing gigs as far out of town as Queenstown. They have two EPs out on Spotify: The Slinks and Come On Now. We checked in with them to see Read more...
Posted 10:35pm Saturday 6th March 2021 by Annabelle Vaughan
As the saying goes, you win some, you lose some. This mantra rings especially true for one of Dunedin's newest up and coming acts, Sometime Winner. The five-piece line up consists of lead singer Louis (who dubs himself Kid Freeman on the Mic), guitarist Silas, violinist Rose, bassist Read more...
Showing results 1 - 10 of 10
TAGGED ITEMS
Showing items with the tag:
band