Posted 12:40pm Sunday 8th October 2023
Get your hard hats and your high-vis vests on. For a hazard-free gig, you can count on No Danger: an eclectic six-piece band that play sets with covers ranging from Black Sabbath to the Spice Girls, alongside their own originals, one of which they're planning to officially release soon. Critic Read more...
Posted 10:15pm Sunday 24th September 2023
As the end of the year draws close, it's the perfect time to sum up Ōtepoti's musical releases – and the Ōtepoti Music Compilation (ŌMC) is doing just that. Critic Te Ārohi caught up with organiser Alex Huber, about the upcoming project. ŌMC Read more...
Posted 12:55pm Monday 18th September 2023
DownsideUp are Josh Botting (keys), Erik Dekker (drums), Hamish Phillips (guitar), Lalu Hartmann (bass) and Nathan Calver (vocals). Critic Te Ārohi caught up with the band to talk about what's on for them 'til the end of the year. DownsideUp formed in 2021 and have Read more...
Posted 8:30pm Sunday 3rd September 2023
Just last week, Dunedin-based fashion brand Imperfect Creatures, designed by Ethan Cruise, was shown on the New Zealand Fashion Week runway. Critic Te Ārohi caught up with Ethan about his latest collection 'MOTION' and what else we can expect from Imperfect Read more...
Posted 11:09pm Sunday 20th August 2023
Not many high schoolers can say they've performed alongside their musical heroes, but for Ōtepoti singer-songwriter Keira Wallace, this will soon be a reality. Critic Te Ārohi caught up with Keira about their music and exciting upcoming projects. Of creating music, it Read more...
Posted 3:54pm Sunday 13th August 2023
This weekend launches the inaugural Small Press Fest. Critic Te Ārohi caught up with the festival's creator and curator, Frances Pavletich of Evening Books, on the whats and whys of a dedicated fest to small press. Small Press Fest runs from August 18-20, hosted at Evening Read more...
Posted 1:57pm Monday 31st July 2023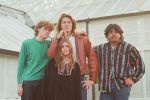 They're only second-years, but The Audio Visual Dropkicks have dropped in big to the Dunedin Sound, already playing a fair share of ski club parties and even following Hans Pucket on the road for two shows last month. Critic Te Ārohi chatted with the band about their freshly released EP Read more...
Posted 4:52pm Monday 24th July 2023
"Quite like Barbara but don't fuck with cops, I'm coming to Shorty in a crop top," Paradox Princess spits on her track 'Utopia For Sale.' Critic Te Ārohi caught up with Paradox Princess to talk about her upcoming album 'Creating A Time Read more...
Posted 9:51pm Tuesday 18th July 2023
While you're retiring from kick-ons in the early hours of Saturday, Daniel Fitzpatrick is up and brewing the perfect cure to nurse your hangover and winter blues. Critic Te Ārohi caught up with Daniel to spill the tea on his farmers market venture, Soul Chai. As Soul Chai, Read more...
Posted 6:17pm Monday 29th May 2023
Would you still love me if I was a worm? Pōpopo wormporium, the composting initiative of Otago Polytechnic, definitely would. Critic Te Ārohi caught up with Liam Hoffman and his worms to find out more. Pōpopo is OP's very own composting facility created to deal with Read more...
Showing results 1 - 10 of 43

Previous Results
Next Results

Jamiema Lorimer
Contributor