Posted 2:04pm Sunday 22nd May 2022
Impress your flatties with this easy and flavourful noodle soup to ease you into the colder weather. Swap out the chicken for red meat if you prefer and use any vegetables you like. Or make it fully vegetarian/vegan by swapping meat for tofu and using soy sauce instead of fish sauce! Serves Read more...
Posted 9:20pm Sunday 15th May 2022
A wholesome little meal to take you and the flat back to those simple childhood dinners. Your mum isn't even here to tell you that you have to have veggies with your chicken, so go nuts. Ingredients: 1.6-1.8 kg chicken drumsticks or chicken thighs (bone in) 2 red onions, cut Read more...
Posted 2:25pm Sunday 8th May 2022
A very skuxx salad that you can make at the start of the week and have for lunches or combine with a meat of choice for dinner. Swap out or add any roast vegetables of your choosing. Serves 6 Ingredients: 2 cups of Israeli couscous 1 bag of baby spinach, roughly Read more...
Posted 2:45pm Sunday 1st May 2022
A recipe for the vegans and veggies out there – if you don't like tofu, simply swap out for a meat of your choice. Serves 4 Ingredients: 100 grams vermicelli noodles 2 carrots, shredded 1 cucumber, thinly sliced ¼ red cabbage, thinly Read more...
Posted 2:54pm Sunday 24th April 2022
Have recent food prices been getting you down? Have you recently realised that your fav hummus, which you can easily demolish in a sitting, has now hit $5 on New World's shelves? Here's how to make a very skuxx homemade hummus that will give you way more bang for your Read more...
Posted 2:34pm Saturday 9th April 2022
Here's how to make some really awesome yet simple meatballs. You can add them to any meal you like. I recommend a tomato-based pasta or, as pictured here, a Greek-style couscous salad. If you're proper ceebs, chuck them in a bread roll and call it a NYC meatball sub. With these bad boys, Read more...
Posted 6:41pm Friday 1st April 2022
This is my go-to pesto recipe as it makes HEAPS and is cheaper than making a traditional homemade pesto (which is made from fresh basil and pine nuts). Top tip: add this to some cooked pasta and your flatties will go wild. Check out @skuxxfood on Instagram for some pesto-pasta inspo. Makes Read more...
Posted 6:15pm Sunday 27th March 2022
Use this recipe as a base for any tomato ragù-based pasta dish! Simply swap out the chorizo and mushrooms for any other meat and vegetables of your choice. Get creative, stay skuxx. Serves 6 Ingredients: 600 grams of short pasta (I used rigatoni, but penne or Read more...
Posted 3:05pm Sunday 20th March 2022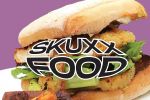 Chicken burgers with grilled pineapple, avo and caramelised onions It took a lengthy discussion between myself and 5 of my flatmates to work out how to explain what butterflying a chicken breast actually entails. I hope you learn something from those 10 minutes we'll never get Read more...
Posted 1:27pm Sunday 13th March 2022
This is the ideal student meal if you're using frozen fish, but also one to blow your flatmates away with a boujee fresh fish option. Choose your fighter. Enough for six people to have two tacos each Ingredients For tacos: 6-8 frozen crumbed fish fillets; or 6-8 fresh Read more...
Showing results 1 - 10 of 12

Previous Results
Next Results

Rosie Joyce @skuxxfood
Contributor