Posted 5:59pm Sunday 7th October 2012
At this point in the year, dinner-time conversation has been replaced by the sound of highlighters moving across course materials. It's exam season, and the air is pregnant with chaste frustration. Or so I thought. On our final Friday writing up this column, I would have never guessed that we had Read more...
Posted 5:01pm Sunday 30th September 2012
It's hard to draw boundaries between art and pornography when representing sex. Erotica seems to go back forever - the earliest known man-made sculpture is the 26,000-year-old "Venus of Willendorf", widely interpreted as a fertility symbol with its large breasts and accentuated vulva. In our Read more...
Posted 4:25pm Sunday 23rd September 2012
The plan for this week was to do a sex position review and details of how I got a blowjob in Bill English's bathroom, but Joe's dictatorial order that every measly word of this week had to researched and written from within the Critic office would have made at least the position review mega awkward. Read more...
Posted 4:57pm Sunday 16th September 2012
Our student poverty has reached a new level: we bake our own bread. "Shane, shouldn't you get the bread out of the oven?" Louise asked. "Good point," I said, checking my watch. "It's basically due." "Ha!" Louise yelled. "It's in the oven and it's Jew!" "Well, they are full of dough," Read more...
Posted 4:03pm Sunday 9th September 2012
Tearing apart the terrifying yearnings of a middle-aged woman that make up the novel Fifty Shades of Grey is an endlessly amusing pastime for my friends and I. The novel's pages, which ooze with post-pregnancy-sexually-repressed fantasies and E. L. James' overuse of the terms "inner-goddess" and "oh Read more...
Posted 5:17pm Sunday 2nd September 2012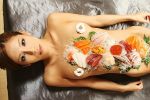 The flat was empty last Friday, as my other flatmates both decided to go away for the weekend. My vagina and I were left alone for some quality time. However, after some serious sexual pondering, I started to think less about the practical and more about the theory of what it takes to pleasure a Read more...
Posted 4:26pm Sunday 19th August 2012
Again, we found ourselves around the dinner table. This time, Nina was treating us to spaghetti carbonara and hearty servings of wine and gossip. I noticed Shane seemed a bit preoccupied with his crotch. Every few minutes his hand would venture down there, then he'd make a quick visit to the Read more...
Posted 5:14pm Sunday 12th August 2012
At last we were all able to sit around the table again, and boy was Tim on fire tonight. His conversational topic of choice? Different undergrad majors. L: I'd imagine law students are pretty frisky thanks to encountering morbid cases all the time. T: They probably get partners to sign a Read more...
Posted 4:49pm Sunday 5th August 2012
The column was due last night, and no one was particularly motivated to write anything. Only four weeks into the ordeal it seemed we had already run out of zucchini, masturbation stories, and blatant VICE rip-offs. Surprisingly, however, this led to us writing said column the way we first imagined Read more...
Posted 2:15pm Sunday 29th July 2012
It's never fun being walked in on. Be it your parent, ex lover, or flatmate, nothing is less enjoyable someone wandering in mid-thrust. Unfortunately, that's exactly what happened last week when Louise decided to walk in just as I began squirting some special white chocolate all over Nina, my Read more...
Showing results 1 - 10 of 12

Previous Results
Next Results

Checker-out St Flat
Columnist