Posted 1:40pm Sunday 26th March 2017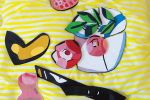 If you're new to art history and can't tell your Rembrandts from your Renoirs or your Monets from your Manets — no stress, it's all good. But you'd probably benefit from learning the name Frances Hodgkins, who was one of our country's most famous artists and a Read more...
Posted 2:23pm Sunday 19th March 2017
Making my way downtown, walking fast, faces pass and I—glimpse what seems to be the nest of a giant bird? Currently on display on Moray Place is A nest in town by Motoko Watanabe; a mass of crumpled folded sheets and dense brown foliage packed behind the rear window of the Dunedin Public Art Read more...
Posted 2:19pm Sunday 12th March 2017
Flavia Rose is an emerging artist and creative raised in Dunedin and based in Wellington. She sat down with Critic's Art Editor, Monique Hodgkinson, for ten quick questions about all things whimsical and lovely. Describe your artistic style in three words. Delicate, whimsical, Read more...
Posted 1:03pm Sunday 26th February 2017
My first glimpse of this work was an unexpected one: while chatting with a friend in Nova. I was thoroughly preoccupied with my cappuccino and not ready to be introduced to my new favourite contemporary art piece, but there it was, unavoidable —OM MANI PADME HUM by Tiffany Singh, towering Read more...
Posted 2:13pm Saturday 17th September 2016
Jennifer Egan's A Visit from the Goon Squad is about people who chase their dreams, people who lose track of them, folk who fall off the bandwagon and who sometimes never quite make it back on again. Simultaneously a short story collection and a novel, Egan's book is an interweaving of Read more...
Posted 1:08pm Saturday 10th September 2016
Although technically classified as a YA novel, The Nature of Jade is one of those rare books which holds something inspiring and beautiful for readers of all ages. This book has been one of my firm favourites for years now, because of its captivating and accessible writing style, unexpected and Read more...
Posted 1:08pm Sunday 4th September 2016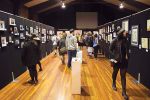 Now that the OUSA Art Week festivities have wound down for another year, I think it's safe to say that the events were a fantastic success once again. Awesome work all you painters, sculptors, sketchers, jewellers, activists, volunteers, and other art-lovers! It was a fabulous five days which Read more...
Posted 12:10pm Sunday 21st August 2016
The epic poem "Pale Fire" has been put into a book following the murder of its author, American poet John Shade. Accompanying the poem is a preface, extensive notes and commentaries by Shade's editor, Charles Kinbote. At least, when you first approach Pale Fire by Vladimir Nabokov, Read more...
Posted 5:39pm Monday 15th August 2016
When the miserable English climate proves too much for young Gerald Durrell and his haphazard family, all five of the Durrells decide to relocate to the Greek island of Corfu. For Gerald, an aspiring naturalist, this is a dream come true. The wildlife of Corfu turns out to be a treasure trove of Read more...
Posted 5:21pm Monday 15th August 2016
In a world where everyone knows the names Leonardo da Vinci, Vincent Van Gogh and Pablo Picasso, it's easy to assume that all art of value comes from overseas. In actual fact, the art history of New Zealand is arguably just as rich, inspiring, and fascinating as that of Europe. And better Read more...
Showing results 1 - 10 of 21

Previous Results
Next Results

Monique Hodgkinson
Art Editor