Posted 1:24pm Sunday 19th May 2013
Rating: 1/5 I had low expectations for this film. Just by looking at the poster, I could tell what kind of movie it would be (a bad one). I wasn't disappointed. Starring Colin Firth, Alan Rickman, Cameron Diaz, and a variety of lazy national stereotypes, and with a screenplay by the Coens (who Read more...
Posted 1:24pm Sunday 19th May 2013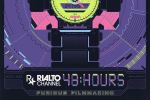 The 48HOURS film challenge is upon us again. Nominations closed last Friday, and production will begin 7pm this coming Friday. The 48HOURS film challenge has been running since 2003 and is now in its 11th year. Contestants are allocated a genre at random, and must produce a film between one and Read more...
Posted 1:24pm Sunday 19th May 2013
On 25 May (6:45am 26 May NZ time), Europe's top two sides will battle for the most prestigious prize in club football: the Champions League title. Borussia Dortmund and Bayern Munich are both in the final at Wembley after pulling off semi-final upsets – Dortmund saw off nine-time winners Real Madrid Read more...
Posted 1:24pm Sunday 19th May 2013
Throughout the week, I have been constantly pestered by Frodo*, one of Planet Media's effervescent account managers, into selling Critic's contents page to one of his advertising clients. I told him to fuck off, but what Frodo lacks in height, tact, and common sense, he more than makes up for in Read more...
Posted 2:26pm Sunday 12th May 2013
Rating: 2.5/5 I arrived at the midnight premier for Star Trek Into Darkness, two equally bewildered friends in tow, to encounter a menagerie of costumed oddities standing in the Rialto foyer. Trekkies have always been something of a mystery to me; I watched my first Star Trek film only last week Read more...
Posted 2:26pm Sunday 12th May 2013
The big news in sport over the last week has been the retirement of Sir Alex Ferguson, the manager of Manchester United. We've been here before – Ferguson announced his retirement at the start of 2002 only to perform a U-turn at the end of the season – but this time it's for realsies. Ferguson's Read more...
Posted 2:26pm Sunday 12th May 2013
So here I am again, filling in for another editorial. No sooner had I walked out the Critic door than I was abruptly yanked back through it, sustaining slight damage to my right rotator cuff in the process. No matter; the role's sex appeal makes its menial pay and questionable social value Read more...
Posted 4:00pm Sunday 5th May 2013
Everybody knows that the "World Series" of baseball is anything but; in reality, it's a competition held between the winners of two different American baseball leagues. The competition's name is often (and rightly) ridiculed, the perfect embodiment of America's mentality vis-à-vis the Read more...
Posted 3:14pm Sunday 28th April 2013
Much like the prodigious production of Marvel superheroes themselves, a veritable avalanche of Marvel films has been unleashed in recent times. This century alone, 27 Marvel superhero films have assaulted New Zealand cinemas. Some of them – The Avengers and The Amazing Spider-Man – were damn good. Read more...
Posted 5:13pm Sunday 21st April 2013
I'm at least 15 years older than this movie's target audience. That's fine though, because as innumerable sanctimonious reviewers love to point out, a good kids' film should also appeal to adults. Maybe it's because kids are stupid, so their opinions don't really signify much. Maybe it's because a Read more...
Showing results 1 - 10 of 47

Previous Results
Next Results

Sam McChesney
Acting Editor, Film Editor