Posted 2:26pm Sunday 12th May 2013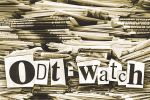 C ritic had only one issue of the odt to work with this week. for some reason, our supply of papers has dried up somewhat in recent days. Perhaps the result of some kind of toilet paper shortage resulting in the emergency redirection of bundles of Dunedin's second-favourite rag, Critic expects the Read more...
Posted 2:26pm Sunday 12th May 2013
An elephant was discovered in the Critic office last Thursday. The elephant appeared in the room while the Critic staff were writing that week's news. It is unclear what the elephant's motives were. The elephant was eventually removed by the police, and has declined to comment on the Read more...
Posted 7:48pm Wednesday 24th April 2013
QR Codes will never be a thing. Don't scan them, and don't enable the companies that try to make them into a thing. That is all. Read more...
Posted 4:40pm Sunday 7th April 2013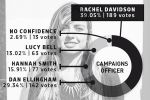 No Confidence crashed to a stunning defeat in the OUSA Campaigns Officer by-election, collecting a meagre 2.7 per cent of the vote as Masters student Rachael Davidson swept to victory. Davidson collected 189 votes, or 39 per cent – a margin of 47 votes (9.7 per cent) over second-placed Dan Read more...
Posted 6:30pm Sunday 24th March 2013
OUSA President Francisco Hernandez and Education Officer Jordan Taylor attended the Higher Education Summit and Expo 2013 last week in Auckland. The only students present, they assured Critic that they were not, in fact, gatecrashing, and were "sort of" invited. Hernandez described the event as Read more...
Posted 6:30pm Sunday 24th March 2013
OUSA will finally get to heal the gaping hole at the centre of the Executive, with a by-election for Ruby Sycamore-Smith's vacated Campaigns Officer portfolio to be held on Thursday 28 March. Voting will open at 9am and close at 4pm, and the winner will receive a free stuffed toy (to be Read more...
Posted 4:23pm Sunday 10th March 2013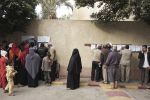 OUSA loves by-elections, and holds them all the time. This week they're treating us to a delicious double-header, with both the Welfare and Postgraduate positions up for grabs. The candidates are Golda Matthias, Keir Russell and Ruby Sycamore-Smith. Golda and Ruby are duking it out for Welfare Read more...
Posted 5:59pm Sunday 7th October 2012
Bromance Of The Year Harlene Hayne and Logan EdgarHarlene Hayne and Logan Edgar, BFFLs. As the only two people who would deign to let me interview them, I thought they should be given the privilege of telling you about their awesome friendship themselves. How does it feel to be selected as Read more...
Posted 5:59pm Sunday 7th October 2012
It's been a full week since we had a student-based election round these parts – far too long, in Critic's opinion. So for your voting pleasure, we present the Student Elections to the University Council. The Council is the governing body of the Uni, so it's pretty important that there are students Read more...
Posted 5:01pm Sunday 30th September 2012
In many ways, your time in Dunedin is a gift. I am especially aware of this when former students make contact and share that as they look back on their years in Dunedin, they feel very grateful. A core part of this Otago experience is the friendships we have here. Every now and then, we need to look Read more...
Showing results 1 - 10 of 152

Previous Results
Next Results

Staff Reporter