Posted 12:42am Wednesday 3rd March 2021 by Critic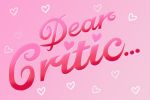 Dear Critic, Here's one for you. I'm having girl problems. I was trying to get with one of my flatmates last year, but she's since come out as gay. All good, power to her, but things have gotten complicated this year. On Wednesday, she brought home a girl that I had been Read more...
Posted 10:37pm Thursday 15th March 2018 by 'The Girl With The Diamond Tattoo'
As a certified Tinder veteran, you better believe I have some stories. What's better than some unwarranted advice? Take it from me, because I certainly wish someone had given me this list when I was a Tinder novice. Follow these tried and tested tips and soon you may hit the jackpot and get Read more...
Posted 9:03pm Thursday 15th March 2018 by Critic
Courtney "So I had been talking to this guy on Tinder for months and we finally met up. We hung out and I couldn't decide if I liked the text version or the live version better, so we met up a few more times. Cue the awkward 'I'm very sober, I haven't had sex for a long Read more...
Posted 8:59pm Thursday 15th March 2018 by Laura Amy
Not long ago I was sitting down with a friend talking about exes and past flings, which led to sharing sex stories. "Okay," I asked, "what was the worst sex you've had?" He told me about the time he was losing his virginity and the girl's ex-boyfriend walked Read more...
Posted 9:06pm Thursday 15th March 2018 by Critic
Asses are trending. Belfies are flooding Instagram. Songs like "Anaconda" and "Wiggle" became viral sensations. Brazilian butt lifts increased by 53% in 2013, and women are flooding to the gym to squat their life away. Previously, asking "does this dress make my butt Read more...
Posted 12:23pm Sunday 17th May 2015 by Lydia Adams
With recent headlines hailing Bruce Jenner's interview as an "Ellen" moment for the trans* community, we take this opportunity to educate and explore the world of sexuality and gender. A few weeks ago Bruce Jenner, a former Olympian and present member of the Kardashian Read more...
Posted 4:53pm Sunday 4th March 2012 by Anonymous
Let me say first, that I am not a 'sexpert'. I find most portmanteaus ('guesstimate', 'Brangelina', 'vajazzling') irritating in the extreme. Literally in the case of vajazzling, it turns out my vagina is allergic to diamantes. And if having had a lot of so-awful-it's-funny sex makes me a 'sexpert', Read more...
Posted 4:53pm Sunday 4th March 2012 by Zane Pocock
I'm one of the lucky ones. No matter what my sexual orientation turned out to be, my parents said they would always accept me. I don't really have any desire to know whether I received this reassurance because of my interest in fashion or complete disinterest in Barbie-like bimbos, but it was Read more...
Showing results 21 - 29 of 29

Previous Results
Next Results

TAGGED ITEMS
Showing items with the tag:
sex