Posted 2:59pm Monday 20th September 2021 by Alex Leckie-Zaharic
In an email sent to students last week, the University asked them not indulge in rule-breaking during their online exams. They said that "academic integrity is paramount" and that they require all students to follow the "honour code". Some students, already pushed to the Read more...
Posted 1:23am Saturday 11th September 2021 by Runze Liu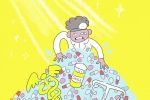 Around 530 students studying health professional programmes were out on placement across the country when the snap Level 4 lockdown was announced, according to the Pro-Vice-Chancellor of Health Sciences Paul Brunton. For some, like Owen, a third-year pharmacy student who was placed in Whanganui Read more...
Posted 2:57pm Sunday 22nd August 2021 by Denzel Chung
Over half of the Official Information Act (OIA) requests sent to the Uni through FYI.org.nz revolve around getting into health professional programmes. 40% of these were about getting into med. Under the OIA, any citizen of Aotearoa New Zealand is able to ask for any official information held by Read more...
Posted 5:22pm Sunday 2nd May 2021 by Annabelle Vaughan
Every year, hundreds of students enrol in competitive entry programmes hoping to get a prestigious degree and achieve their big dreams. But the stress of these courses, which loom large in students' futures, can take a toll on student mental health. Competitive entry is not the cause of mental Read more...
Posted 9:19pm Sunday 18th April 2021 by Fox Meyer
Students in health professionals doing their placements are starting to get the COVID vaccine. The Health Sciences Pro Vice Chancellor (PVC) reached out to students over email. The email was a call for anyone about to start work in a frontline medical placement to book an appointment for their Read more...
Posted 2:16pm Sunday 21st March 2021 by Denzel Chung
Out of the 1323 students enrolled into Health Science First Year (HSFY) at the start of 2020, 300 had changed courses for semester two, a total of 23% of the cohort. Students Critic Te Arohi spoke to weren't surprised by the numbers, generally agreeing that it sounded "about Read more...
Posted 9:38pm Tuesday 2nd March 2021 by Erin Gourley
The average mark required to enter medicine from the Health Sciences First Year (HSFY) programme has increased for the sixth year in a row. In response to an OIA, the University confirmed that the lowest average mark required for a first-round offer into 2021 med was 96.57%, up from 93.43% Read more...
Posted 11:55am Sunday 9th July 2017 by Mel Ansell
"Where the love of man is, there also is the love of healing" reads the plaque on the front of the University of Otago School of Medicine Hercus Building. The stately School of Medicine buildings resonate authority, over a hundred years old, and flank the hospital where medical students Read more...
Showing results 1 - 8 of 8
TAGGED ITEMS
Showing items with the tag:
health science