Posted 2:56pm Sunday 18th July 2021 by Alex Leckie-Zaharic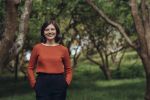 The Young Greens had the most success, of all the youth political parties, of recruiting people to join them at Clubs Day. It's that time of year when clubs desperately attempt to get students to bolster their sometimes meagre ranks. The "young" branches of the political Read more...
Posted 12:18am Monday 19th April 2021 by Asia Martusia King
Jacinda Arden wouldn't give me her birth time. But I figured that if any other politician had a CoStar it would be Chlöe Swarbrick, because she's queer and vegan. I was wrong. Thankfully she's a gem, and texted her mum for me. Chlöe schlorped into this world on 26th Read more...
Showing results 1 - 2 of 2
TAGGED ITEMS
Showing items with the tag:
chloe swarbrick