Posted 6:14pm Friday 1st April 2022 by Keegan G. Wells and Will R. Murrell
Abstract: A 4-point scale was used to determine the optimal foot vessel to utilise as a booze-funnelling device in what is known colloquially as a "shoey". This metric indicated that a sockie is the least desirable vessel, while a dress shoe is the most desirable. Further field research Read more...
Posted 6:45pm Friday 1st April 2022 by Chug Norris
Hardy's is perhaps the most widely consumed wine in Dunedin. Not a BYO goes by where a bottle does not appear. The iconic one litre bottle towers over the laughably dainty 750 mL bottles on the table. But Hardy's is also special in another respect: it is utterly shit. It is a symbol of Read more...
Posted 5:22pm Sunday 27th March 2022 by Ruby Werry
On St Paddy's, Dunedin's most iconic booze-slinging establishment was running notably low on green piss. Critic tried to get to the bottom of this. A Leith Liquor employee told Critic Te Arohi that while the day itself brings plenty of Paddy's pep and outrageous outfits, Read more...
Posted 5:32pm Sunday 27th March 2022 by Sean Gourley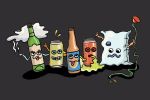 Fizzliss, an RTD company run by Otago grads, has renewed their lineup, improving their original flavour and introducing a brand new one. They hope that this will make a fresh start for the company, after their first RTD release last year produced some rather hilarious controversy. When Fizzliss Read more...
Posted 6:17pm Sunday 27th March 2022 by Chug Norris
I was going to review Fizzliss' new Pineapple and Passionfruit flavour but it had sold out in every store in Dunedin, so it must be good. Instead I acquired the formerly infamous Cranberry flavour to see if it still maintained its laxative properties. It did not. But it does taste way Read more...
Posted 1:43pm Sunday 20th March 2022 by Fox Meyer
Joerg, creator of Broken Heart Gin & Spirits in Arrowtown, makes a vodka that has just been rated the best in the world. In the World Drinks Awards, his vodka beat out entries from 18 other countries for the title in the "pure neutral" category. Coincidentally, and completely Read more...
Posted 3:07pm Sunday 20th March 2022 by Chug Norris
This St Paddy's day I was on a diet, so I bought a bottle of Jameson whiskey instead of beer. Instead of standing around in near darkness and hating our lives, a group of us decided to go for an expedition to the reservoir for a change in scenery. I did not want to be lugging around a glass Read more...
Posted 1:40pm Sunday 20th March 2022 by Denzel Chung
Barely two years after opening, Dunedin's No8 Distillery has moved into a swish new location on Hanover Street - right on the edge of Studentville. Founder Julien Delavoie's selection of spirits, distilled locally with foraged botanicals, have been sweeping awards Read more...
Posted 1:33pm Sunday 13th March 2022 by Chug Norris
Picture this: your fuck-up of a flatmate got Covid so now you have to isolate with two people you can barely stand for at least 10 days with no chance of distraction or escape. What do you do? How do you get along with flatmates that you hate? The answer, I found, was to drink 10.5% Elephant Read more...
Posted 4:57pm Sunday 6th March 2022 by Ruby Werry
Throwing parties is hard. It requires lots of planning, and induces plenty of anxiety. You find yourself thinking: Will people come? Will they have fun? Will people think my idea is cool and original? Or will it be boring and will I be socially outcast forever? Never fear, Critic is here! Read more...
Showing results 11 - 20 of 73
TAGGED ITEMS
Showing items with the tag:
alcohol