Archive
Posted 1:02am Friday 13th September 2019 by Thor Elley
Why are we still exclusively ripping bongs through water when there's a whole world of exotic bong rips out there. Here're some of the hottest new bong trends for when you feel like spicing your life up: Day 1: Mandarin Slices in syrup, $1.30 from Countdown. Difficulty: Read more...
Posted 12:38am Friday 13th September 2019 by Critic
We asked students to share their best or worst experiences on drugs in ten words or less. "So drunk, I cummed while completely soft" "Inhaled Diethyl Ether, convinced I was a garage door opener" "Made grilled cheese but with butter instead of Read more...
Posted 12:22am Friday 13th September 2019 by Henessey Griffiths
"Vaccinate your kids, be aware of hidden water, global warming is not a myth, and fuck Donald Trump." These are the mottos of local students Ben Paanakker and Flynn Robson. Ben and Flynn seem like the average breatha. Living on Queen, loving a cheeky Wednesday night appearance at Pint Read more...
Posted 11:52pm Thursday 12th September 2019 by Sophia Carter Peters
I was 15 when I got my first Ritalin prescription and it changed my life. My grades improved, my relationships improved and I didn't get comments on my report saying "needs to talk less in class". ADHD is a chronic disorder that generally involves hyperactivity, inattentiveness, Read more...
Posted 1:03am Friday 6th September 2019 by Sinead Gill
For Te Hau and Karamea, every week is Te Wiki o te Reo Māori. As far as any officially themed week goes, though, Māori language week is this week, and you'll see a bunch of institutions making an effort to include te reo in their social media posts and the likes. But on top Read more...
Posted 11:59pm Thursday 5th September 2019 by Māori Mermaid
In order to heal We do it together. I let you thread the stitches into my skin A perfect weave of earth and wind, We bathe each other several times a week, Then plant our antibiotics deep And gently bandage our backs with dirt, We wash our wounds, expel some Read more...
Posted 11:55pm Thursday 5th September 2019 by Taylor Terekia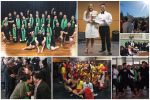 Whakatau mai rā e te huinga tauira, e te huinga tāngata ki tōku whare wānanga e! Nau mai rā e ngā mana, e ngā waka ki te tumu herenga waka, ki Te Tumu ki Ōtākou. Nō mātou o Te Roopū Māori te maringanui ki te whakahaere i Te Huinga Read more...
Posted 11:11pm Thursday 29th August 2019 by Wyatt Ryder
At 57, veteran New Zealand film maker Ant Timpson has made his directorial debut with his film Come To Daddy - a hybrid of a thriller and dark comedy. Timpson started in the film industry writing and sending letters to various film production companies, trying to help any way he could. "We Read more...
Posted 11:07pm Thursday 29th August 2019 by Henessey Griffiths
"Even the most confident and socially accepted people have negative thoughts. It's just part of life. I think that being aware that these things can come and go like the tide is important in maintaining a healthy mind." James Fletcher is a 22-year-old Law and Commerce student. Read more...
Posted 9:34pm Saturday 17th August 2019 by Henessey Griffiths
"We want to encourage people to do the right thing and just do what they can. If we can keep that momentum going, keep that fire burning, we feel like we might be able to point humanity in the right direction." At only 24, Eva Cambourn works as the director and designer of her own Read more...
SHOW: