Posted 4:25pm Sunday 23rd September 2012
Caesar salad often emphasises the heavy, creamy dressing, which is more often than not over-processed and ruins a perfectly good salad. For me it is all about the croutons. Croutons are a delicious and convenient way to use bread that is past its prime. Most cultures in the world have some creative Read more...
Posted 5:14pm Sunday 12th August 2012
After hearing earlier this week about one Dunedin flat's dessert of stingray, maple syrup, and ice cream, I thought it might be time to let up on the culinary innovation and return to the classics. Warm, hearty sticky date pudding just cannot be beaten on a cold, wintry Dunedin night. To find a Read more...
Posted 7:40pm Sunday 27th May 2012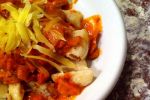 Although relatively labour intensive, homemade potato gnocchi is incredibly cheap, very rewarding and shows that with a little time you can easily make restaurant quality meals on a student budget. "Al nonno" means served in a classic Italian tomato sauce "just like grandpa used to make." It is Read more...
Posted 5:04pm Sunday 22nd April 2012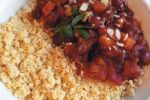 This week we have a slightly different but incredibly delicious way to cook your cheaper cuts of meat, sure to beat all other beef stews. Tagine is a North African dish where meat is cooked slowly in various spices until it is fragrant and tender, usually in the clay pot that goes by the same name. Read more...
Posted 4:26pm Sunday 25th March 2012
Unfortunately, autumn is technically upon us. However there are still many reasons to celebrate; most important among these is that we still have a few weeks left to revel in the glories of summer produce. Fifty-cent corn can still be skimmed off the cob to transform any salad. Seconds tomatoes can Read more...
Showing results 1 - 5 of 5