Posted 1:24pm Sunday 19th May 2013
An elderly gentleman from South Dunedin has been outed as a "pimp" by the Otago Daily Times after a popular YouTube video inspired them to publish an article about the man's "pimped out" mobility scooter. While the aged hustler is far from making coin from the South Dunedin hunnies, the ODT Read more...
Posted 1:24pm Sunday 19th May 2013
The Hare Krishna community in Dunedin has been gifted a house to call their spiritual home thanks to a gracious donation from one of the group's members. At the end of this year, 133 London Street will become the new Dunedin Hare Krishna Cultural Centre. Hare Krishna member Jane Beecroft Read more...
Posted 2:26pm Sunday 12th May 2013
The 17th New Zealand Law Foundation Ethel Benjamin Commemorative Address was given by Justice Catherine Davani, of the Papua New Guinea Supreme Court, on 8 May. Her thought-provoking talk in the Dunedin Public Art Gallery touched on the pressure to repeal sorcery laws in PNG. A recent, Read more...
Posted 4:00pm Sunday 5th May 2013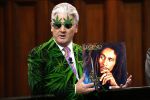 Associate Health Minister Peter Dunne has come out of leftfield and banned a further two substances, both found in the popular synthetic cannabis brand K2. The totally unprecedented move by Dunne will see a Temporary Class Drug Notice issued on BB-22 and 5F-AKB48, bringing the total number of Read more...
Posted 3:14pm Sunday 28th April 2013
Old Rockers Aerosmith proved they're still Living on the Edge last Thursday evening, after more than 20,000 loyal bogans descended on Forsyth Barr Stadium for their first ever New Zealand concert. Playing all their big hits including "I Don't Want to Miss A Thing", "Dream On", "Jaded", and "Love in Read more...
Posted 5:13pm Sunday 21st April 2013
"My name is Eva Lavi. I was born in Poland in Krakow, and I was two years old when the war started." Last Wednesday evening, Eva Lavi shared her incredible story of Holocaust survival. Nearly 600 people crammed into the Colquhoun Lecture Theatre, well exceeding its usual 312-person Read more...
Posted 5:13pm Sunday 21st April 2013
Stashing exam notes in the toilet and posting computer science code on an online forum were among the 45 cases of dishonest practice that Otago students were reported for in 2012. The Annual Discipline Report shows that of these 45 cases, 17 stemmed from the Commerce Department, 15 from the Read more...
Posted 5:49pm Sunday 14th April 2013
The Maori community has set its harpoons on foreign territory after a Danish MP denounced Maori culture as "uncivilised and grotesque." An opinion piece published by MP Marie Krarup in the Danish newspaper Berlingske revealed that a powhiri made her feel uncomfortable, especially after being Read more...
Posted 5:49pm Sunday 14th April 2013
Controversial climate change skeptic Lord Christopher Monckton will share his views with Dunedin next week as part of a nationwide speaking tour. His Dunedin visit is being organised by the New Zealand Climate Science Coalition. Lord Monckton is a British journalist, politician, former newspaper Read more...
Posted 4:40pm Sunday 7th April 2013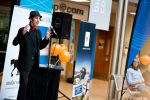 Stilt walkers, prowling lions and some hilarious misuse of the word "advice" helped to kick off another successful year for business incubator Audacious. Taking place in the Business School Atrium, the evening saw entrepreneurs Alex Dong and Logan Elliot, both from vastly different business arenas, Read more...
Showing results 1 - 10 of 55

Previous Results
Next Results

Claudia Herron
News Reporter