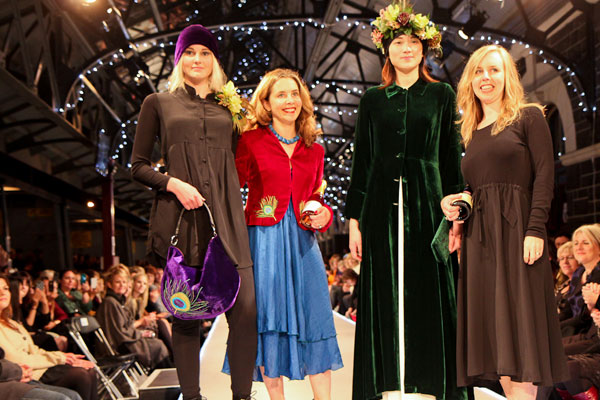 The hundreds of seats on the platform tremble as a train goes by. The lights go down and the fashionistas, designers, photographers and farmers wives clutch at their Revlon gift bags filled with freebies and vouchers. At the far end of the catwalk, the first models walk out in Nom*D. The show has begun for the 13th year.
The iD Fashion Show runs for two nights and is set up down at the Dunedin Railway Station. A stage is built along the platform, which takes the models 7 minutes to walk. From the photographer's pit, the start of the runway is a vanishing point in the distance. The audience is seated along both sides of the stage. Some train carriages are opened on one side to hold more seats. The ceiling is lined with rock-concert lighting.
NOM*d
The night started off strongly with one of our favorites. As usual with Nom*D, there were lots of layers and a slightly grungy feel, but this tended slightly more towards street style than pure goth. 'Autumn leaves' colours were coming through strongly, and the cuts tended to be quite long with plenty of jackets, cardigans, button-up dresses and draping hoods.
The men's collection had some very long men's skirts. It was actually very cool: for those who can't deal with that idea, just imagine really long coats.
Mild Red
Plenty of heavy, over-sized necklaces with locks and chains. The outfits tended to have wide, interesting necks which tapered straight-down for most of the body and finished with something varied and interesting at the bottom. Patterned tights started coming through with this collection, combined with shorter skirts and high socks or boots. It was refreshing when the collection about-turned into white half-way through, but sadly this wasn't pulled off too brilliantly. If something looks bad on models then it probably won't suit the general public.
Company of Strangers
Medium-size pouches worn as necklaces were quite cool - maybe the latest accessory craze for everyone to pounce on? We also loved the platformed Chuck Taylor's. The black, grey and red colour scheme was nice, as was the idea of having fluro accessories (like socks and beanies) juxtaposed against navy. Having semi-transparent black fabric over fluro underwear was wicked. The top half of their outfits were often quite baggy with a tighter lower half, which was an interesting and cool combination.
Capsule Collection One
Cherry Cotton Candy
Trying to be hippy but not styled right - this collection just ended up looking tacky. Most of the pieces were like wearing Grandma's curtains. Having said that, they did some plain stuff alright with the ever-so-pleasing colour scheme of orange meets grey.
Jane Sutherland
Very Victorian in it's ruffled collars, hoods, dark colours. We liked the knitted, unattached hoods and buttoned layers. We didn't like high boots.
Tamsin Cooper and Silkbody
This felt like an exotic garden full of elegant, flowing velvet and lots of reds and blues. We wanted to see more of the clothes and less of the neck pieces. We'd have to see a bit more in a different context to decide whether it was cool or horrible.
DADA Vintage
Started off with brilliant, Autumn colours again. We liked the combinations, the patterned tights, the coats, the large, elegant hats, and the prominence of tweed-like patterns coming through. The bright but not in-your-face colours, like yellows and greys, were refreshing. It became quite oriental part-way through the collection and was perhaps best suited to elegant older women.
iD Awards Highlights
Chris Ran Lin
While closer to wearable art, this was a highlight. Chris Ran Lin's collection focused on large, bold-coloured knitwear with intricate and slightly alien patterns.
Renana Krebs
Renana was another highlight in the men's fashion. Her work featured long jackets and shirts that were often bold yellow or orange colours. Her collection had an unusual theme of nature patterns mixed into the clothes. What was especially brilliant were the reconstructed briefcases which had ripped-out sides with small paradises growing from them.
Tanja Bradaric and Taro Ohmae
This collection seemed to fit with a futuristic-sport-outfit theme. Although the soft, often pastel colours were lovely, we weren't wholey sure about the smaller additional details of the clothes.
Natalia Grzybowski
Natalia is a designer to look out for. There was something elegant and strangely insect-like about the patterns and colours of the outfits. The shapes of the clothes often felt like reconstructed kimonos. The final piece in this set was a long, white patterned dress that flowed with an ethereal beauty. It was an undeniable audience favourite.
Patricia Kapeleris
Again, some unusual shapes and patterns were coming through. Patricia used dark greens and oranges in a surprisingly pleasing way. We would describe her collection as rare on the street, utterly inspirationational on the runway.
Carolina Barua
We felt mixed with Carolina's mash-up of Victorian frills and colonial undergarments. Yes, there were elements of technical excellence, but in terms of a fashion outfit? Clothing that gets too close to curtains risks burning in house fires.
Charmaine Reveley
Reds and whites. Sweet but hardly new -like strawberries and cream on a Sunday afternoon.
Celebrate Christchurch
Barbara Lee
Can't help but think these looks were designed for women going off to work in the Matrix.
Caroline Moore
Ideal for the rich conservative ski resort woman with furs, whites and creams. Perhaps she is off for a weekend in Queenstown with the girls and several bottles of Chardonnay. Maybe she'll wear the black leather and sparkles outfit for a night out on the town?
MisteR
A strange world of slightly punk, adult-sized children is all we could think of when this collection paraded down the runway. With hand-sewn gingerbread men and teddy bears mixed with dots and tartan it was hard to follow. What we did notice was Colin Mathura-Jeffree from New Zealand's Next Top Model and the fainting cougars he left in his wake.
Ruby
Definitely one for the younger female crowd, we loved the orange and grey colours once again, but some of the cuts (especially for the skirts) were quite difficult to get used to.
Liam
Simple but high-quality designs which reminded us of Burberry and Karen Walker. We felt this collection fitted nicely with Ruby.
Vaughan Geeson
Clothing for old women trying to be 20 again.
Capsule Collection Two
Undone
This collection had a lot of future potential and the Guns N' Roses leggings were cool, but it was very dark and a bit too 'rocker' - we'd like to see it develop a point of difference.
BurtenShaw
Two words: funky receptionist.
DEVŕL
The slightly-more-fashionable daughters of the mothers who went to Queenstown wearing their Caroline Moore collection.
Otago Polytechnic Section
Fiona Clements
Very good technical skill and interesting experimentation with patterns, like dinosaurs.
Grace Averis
What hipsters will look like in 2050. Dark and edgy, think Kubrick's Clockwork Orange
Jojo Ross
We'll know which designer to hit up in the upcoming inter-galactic war.
Molly Barrington
It was great to see some men's-only fashion. We enjoyed the simple-but-edgy design.
Phillip Hawkins
Sequins have been and gone. Studs have been and gone. We think Phillip Hawkins knows where it's heading.
Carlson
We both fell over at the start of this collection, and by the time we recovered, it was miraculously finished.
Lutz Huelle
This collection shows obvious experience and appreciation for the technicalities of fashion design. But then again, what do you expect from the retrospective of a top Parisian label?
Designer Finale
At the end of the show, as the designers walked the runway with a model wearing their favorite piece, the main message we were able to leave with was that John Campbell, who presented the show for some absurd reason, loves himself.
But in all seriousness, the show was outstanding - an event that anyone interested should experience.
Overall Trends
Lace, layering with leather, big shoes (thick heels), patterned tights, tassels (coming off shoes, coats, dresses, hoods, and necklaces), knitted beanies, see-through fabric (perfect for layering), and bowling shoes.
View the Critic iD Fashion Photo Gallery here:
iD Fashion Catwalk 2012.
By
Zane Pocock
and
Loulou Callister-Baker
RECENT BLOG POSTS
For full archives click here ...
EDITOR'S PICKS
Psycho Nerd Goes on One-Man Killstreak

An online gamer has tragically turned his fantasy "Guild Wars" game into a real-life "killed wars" game after losing a fantasy battle and allegedly killing his cyber rival.

Lex: Coffee Cowboy

For almost two decades Lex has been making strong, hot coffee at the University of Otago, currently in the East Lane of the Information Services building.

How Wack Is Crack?

Poor, poor methamphetamine. It's the Tourism of the drug world – condemned, stigmatised, and used by the dregs of society.